Instead of a dream listing this week what about a dream swimming pool?  I found this article and thought it was a very inovative use of storage containers.  I guess the down side is that it is 5 foot deep throughout rather than a deep end and shallow end.  Very interesting concept though!
Reprinted with permission from RISMedia. ©2017. All rights reserved.
By Nick Caruso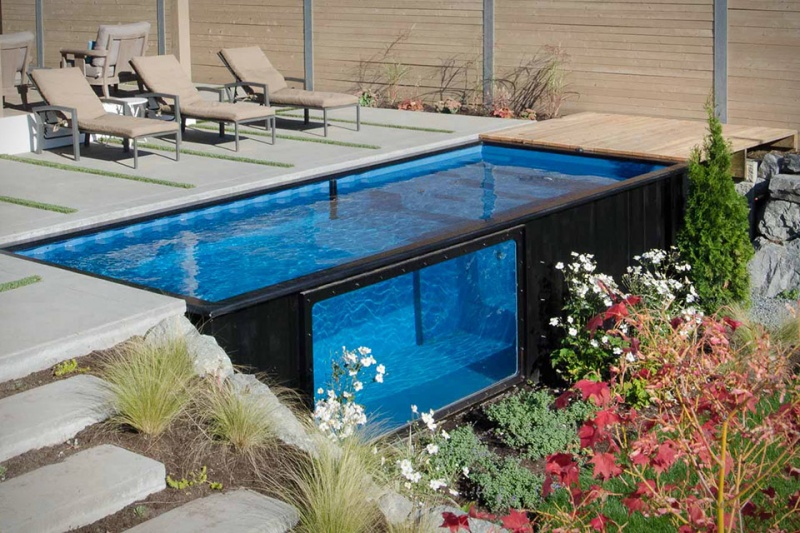 Image Credit: Modpools
One Canadian couple is making a splash transforming shipping containers into backyard swimming pools. (We always knew those shipping containers were universal!)
Paul and Denise Rathnam launched Modpools earlier this year and the idea has taken off, with orders mostly coming from the hottest locales in North America, particularly California, Nevada, Texas and Florida.
"The traditional pool is a symbol of excess and waste. This is a little more modern, more modest. We're repurposing something rather than recycling. This pool can be resold, and you can take it with you if you move," Paul Rathnam told Vancouver Sun.
It's an interesting concept, for sure, and the design, once installed, looks pretty slick. It's as if your backyard was always destined to house a shipping container.
The standard size Modpool is eight feet wide by 20 feet long, and just over five feet deep. It also comes with a clear, acrylic window on one side, which is actually a pretty spiffy design element. Customers can opt to add another acrylic window on the other side for a see-through look if they want one.
In Canada, after delivery, a Modpool will cost you $35,000 plus tax, which could be a cheaper alternative for families planning on installing an in-ground swimming hole.
Remember it is always toasty in Naples and you deserve your piece of Naples sunshine.  Maybe not a storage container pool but perhaps a pool of your own?  That's my dream right now how about you?