There are many people that find working from home too full of distractions to get a full days work done.  I love to work at home and find I get a lot more done than when I am in the office.  I like to have my area defined for working and I have all my treasures around me that I have collected over the years.  I agree that it is important to define a space and not just set up your laptop at the kitchen table or on the couch.  If you are finding it hard to concentrate at home, try some of these tips and see if they can focus you.
Courtesy of RESMedia 2017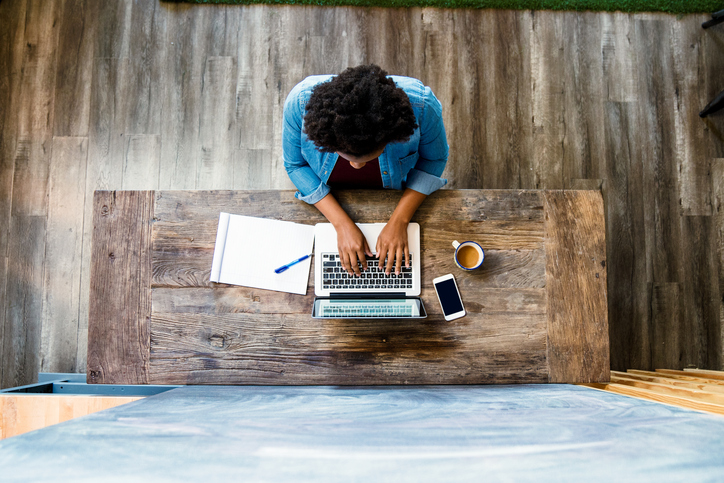 Working from home either full- or part-time is increasingly the norm in today's flexible business environment. For some of us, the transition from brick and mortar to a virtual or home office is seamless. For others, it can be challenging. Here are some small, but important, steps to take to make sure your home office is a truly productive space.
Set a space aside. With laptops and iPads, a home office doesn't necessarily revolve around a desktop computer anymore. If you're using a laptop, try not wander during the course of the day. Set aside a room or corner of your home that is specified for work; otherwise, you'll get distracted as you bounce from the couch to the kitchen table to the patio.
Limit noise. Nothing is more distracting than the dog barking, the neighbor's leaf blower or your partner watching TV in the next room. Make sure you choose a quiet place for your home office, and close the door behind you. Tell anyone else who may be in the house that you're working and can't be disturbed. Ditto for neighbors who think they can pop by because you're home.
Have the right equipment. Nothing hampers productivity more than not having all the necessary tools. Make sure you're equipped with whatever is essential to do your job—color printer, scanner, speaker phone, webcam, etc.
Make sure you're connected. If you're not seamlessly connected to those working within the office, then your work-from-home situation won't, well, work. Make sure you can access all the office drives, and if you have a landline at the office, make sure it forwards directly to your mobile or home-office phone. Make sure you're able to teleconference in for meetings, as opposed to being a scratchy, hard-to-hear voice through the speakerphone.
Do you need a new home office?  Why not give me a call and let's find that perfect home that already has the office set up for you.  I love the new bamboo wood floors and the use of gray to give the room space and brightness.  Let's find your dream office in your new dream home!