If you are expecting flowers for Valentine's Day, as I am, this article is very timely.  Roses are so expensive and seem to last such a short time.  I want to keep my beautiful bouquet as long as possible so I will definitely be following this advice!
By Barbara Pronin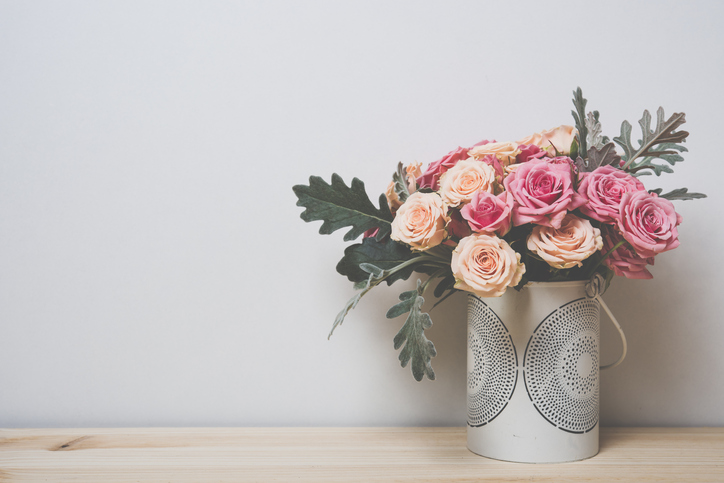 Fresh flowers can brighten anyone's day – and that goes for men as well as women! Of the 110 million roses purchased each Valentine's Day, 75 per cent are bought by men, according to Teleflora, one of the largest purveyors of fresh flowers delivered nationwide. But the number of women buying flowers for their loved ones is rising every year.
With proper care, most fresh flowers should last for seven to 10 days. So man or woman, if you receive a bouquet this February 14, revel in the fact that someone loves you – and keep those flowers looking fresh as long as possible by following these five Teleflora tips:
Feed them – That little packet of 'life extender' material that comes with so many delivered flowers is mostly composed of sugar. Use it if you have it. If not, add a nourishing teaspoon of sugar or an aspirin (not ibuprofen) to the vase after you fill it with water.
Water them – Fresh flowers drink a lot of water, and some are thirstier than others, so check the water level daily and keep the vase filled.
Nip the stems – Every two or three days, remove each flower and cut off an inch or so of the stem. Cut it an angle to ensure it absorbs the most water and toss out any discolored petals or buds that have fallen below the water line.
Display them in a cool spot – Cut flowers don't like direct sunlight, so choose your display spot with that in mind.
Refresh them – After three or four days, remove the flowers, rinse the vase and refill it with room temperature water. Add sugar or an aspirin to keep bacteria from growing, and rearrange the flowers in it, discarding any blooms that have wilted.
Reprinted with permission from RISMedia. ©2017. All rights reserved.
Remember it is always toasty in Naples and you deserve your fresh and beautiful flowers.  Need a new home to display those flowers?  Give me a call I can help!