I love the way they dry laundry in Italy.  No worries there about all the unmentionables hanging out for the world to see!  Now it is time to consider updating your laundry room into a glamorous washing space.  We all love luxury kitchens and pictures of kitchens but what about the poor old laundry room?  It gets a lot of work during the week also and we don't spend much time thinking about updating it or exclaiming over pictures of wonderful laundry rooms.  This article helps you luxury up your tired old laundry room and give it some glam!  Maybe a nice DIY project for a long weekend and you will end up with a fabulous new laundry room.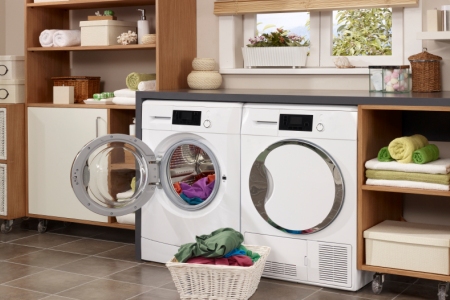 (Family Features)—"Luxury" and "laundry room" are two terms rarely found in the same sentence—until now. Laundry rooms are goin' glam! Get in on the lackluster-to-luxe trend with these tips, fresh from the pros:
Luxe laundry rooms take location into account, so take time to assess your existing space. Could laundry be completed more efficiently if the room were elsewhere? Consider moving the washer and dryer to a walk-in closet, ideally in proximity to the bedrooms, to lend an upscale touch.
Sleek, top-of-the-line appliances scream "luxury," but today's models are much more affordable than predecessors. Seek out machines that are not only aesthetically pleasing, but also high-functioning and high-powered, to achieve the luxe look for less.
Set a high-end tone with structure. Spring for durable concrete or quartz countertops atop a wash station, and install a reflective or stone backsplash—both coveted finishes—to reinforce the look.
Brighten up the space—and introduce an unexpected touch of luxury—with an elegant lighting fixture,
such as a centerpiece chandelier or coordinating wall sconces.
Incorporate on-trend patterns, like chevron or ombré, in accessories—think curtains or baskets. Go for inexpensive fabrics and finishes that mimic the higher-end look, so that they can be updated effortlessly as fads come and go.
Source: Electrolux
Reprinted with permission from RISMedia. ©2016. All rights reserved.
Remember it is always toasty in Naples and you deserve your piece of Naples sunshine and a luxury laundry room!
Leave a Reply
You must be logged in to post a comment.