Don't we all wish that Ponce de Leon really did find that Fountain of Youth in St Augustine!  However, that didn't happen and we do everything we can every day to combat the ageing process.  I recently came across this article that suggests certain foods are good for longevity.  I love avocados and usually eat them every day with my salad at lunch so that is not a problem.  Who doesn't love garlic even though it is not great for your breath the next day!  Fish, berries and olive oil are always part of my weekly diet.  I am interested in the whole grain idea as I very rarely eat bread or grains usually stick to the gluten free items.  Just in case you are interested in gluten free bread Udi's has the best one I have found.  It is in the frozen bread section at Publix in Naples.  When it is toasted it tastes just like the whole grain kind!  Hope you can use some of these ideas and live to a ripe old age!
By Barbara Pronin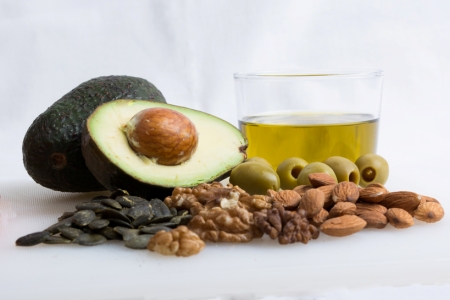 The average American can expect to live until just shy of 80 years old, according to the Centers for Disease Control and Prevention (CDC). Though physical activity contributes to a long, healthy life, food also plays a role, says longevity researcher Dan Buettner, who recently partnered with National Geographic to match local food norms with populations who consistently live the longest.
Their report suggests seven food choices common to those who live well into old age:
Avocados – The fat in avocados is mostly monounsaturated fat—10 grams in just half. Regularly eating avocado can boost nutrient absorption, support eye health, and even contribute to weight loss.
Berries – Fruit satisfies the craving for sugar, and berries, which contain lower amounts of sugar than most fruits, are among the best choices. Regular consumption of whole berries has been shown to reduce the risk for disease.
Fish – Not surprisingly, populations that eat a lot of fish almost invariably live longer lives. While salmon has the rep for lots of heart-healthy omega-3 fatty acids, most seafood contain the healthy fat and protein.
Garlic – Apart from adding flavor to food, garlic contains nutrients that can boost your immune system. Chop it yourself—pre-minced garlic has too many preservatives.
Nuts – Most varieties contain healthy fats, protein, and fiber, a combination shown to improve cognitive health. They are high in calories, so munch in moderation.
Olive Oil – Like avocados, this staple of the Mediterranean diet is a great source of monounsaturated and polyunsaturated fats, which, according to dozens of studies, reduces the risk of heart disease even more so than a low-fat diet.
Whole Grains – New research suggests obesity can occur because a lack of fiber negatively affects intestinal bacteria. Whole grains are filled with important nutrients, particularly fiber, that can counteract this effect, staving off later-in-life conditions.
Reprinted with permission from RISMedia. ©2016. All rights reserved.
Let me know if you have success with these foods and if you try the Udi's bread send me a message and let me know what you think of it.
Remember it is always toasty in Naples and you deserve your piece of Naples sunshine and to live a long and healthy life!