I found this article this month and the thing that amazed me most was that it started out talking about colored appliances again.  Really?  It is hard to believe that anyone would want to go back to almond or avocado appliances again when we have the wonderful stainless steel!  It seems that adage "everything old is new again" certainly lives on at least in kitchen decor.
By Suzanne De Vita
Kitchen design's trending more behind the times than ahead of the curve, with once-dated features like colored appliances and tile countertops resurfacing in new, of-the-moment styles.
One of the comeback kids is the enclosed kitchen, reimagined as a flex-space that opens today, closes tomorrow.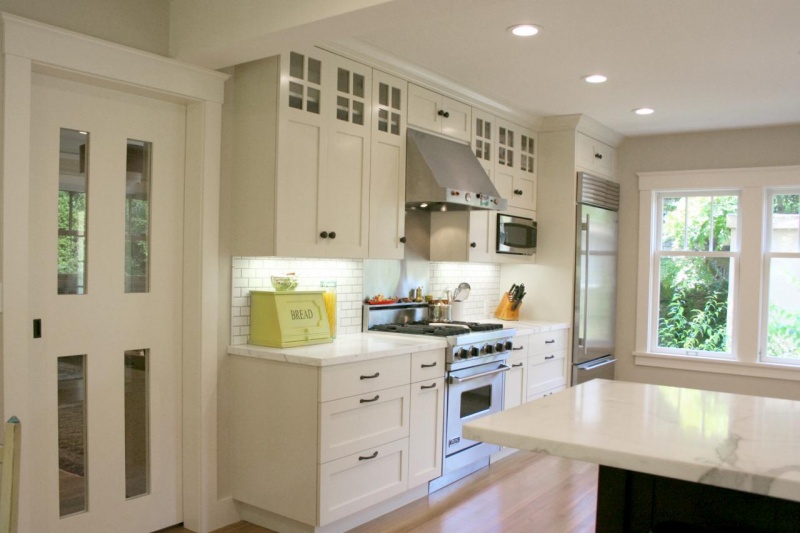 Why closed-off? For those of us who'd rather keep meals and messes behind closed doors, an open layout is less than ideal. Appliance noise, too, can be difficult to suppress—an issue in homes where offices or other quiet spaces are adjacent to the kitchen.
Brass accents are also falling back into favor. The garish, gleaming gold fixtures of yesteryear have reemerged with a dull, soft finish, in everything from satiny faucets to antique-looking lighting.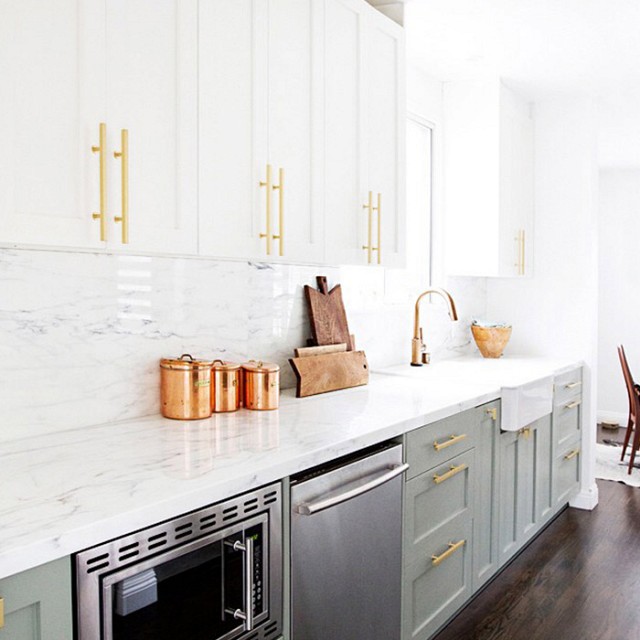 Why the change of heart? Like copper, brass is a timeless metal—the new, understated patina, less polished than its predecessor, contrasts glossy modern surfaces like stainless steel, playing into the mixed-metals movement while maintaining its classic appeal.
If walls could talk, they'd say wallpaper's back, too—imparting a retro vibe on an accent wall, mimicking a natural surface as a backsplash, or offering a hint of sheen in open-faced cabinetry.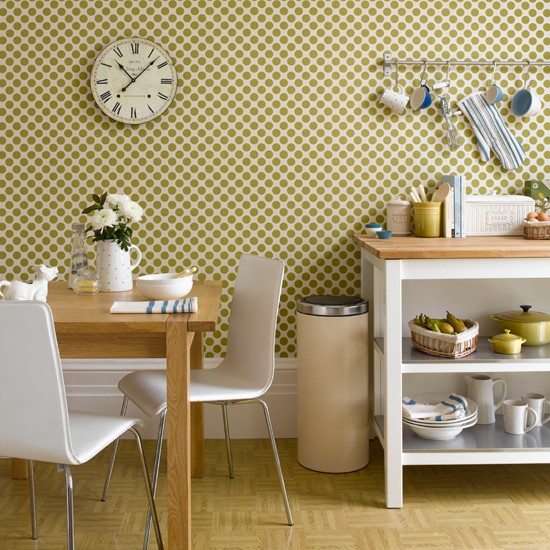 The reason? Personalization. The décor in our homes is deeply connected to our inner selves—and with the concept of home more broadly defined than ever, claiming a space is important. Wallpaper, now infinite in color, pattern and texture, is one way to make that statement.
These three trends are proof that if we wait long enough, everything comes full circle.  What was out—a separated floor plan, brass finishes and wallpaper—is now in.
What's making a comeback in your kitchen?
Reprinted with permission from RISMedia. ©2016. All rights reserved.
What do you think?  Looking for some retro polka dot wallpaper to dazzle the eyes and your kitchen?  Me probably not so much but that is what makes life so interesting as everyone has their own taste and their own opinions.  How boring if we all liked the same things!
Remember it is always toasty in Naples and you deserve your piece of Naples sunshine and a retro kitchen if that is your taste!