Have you ever wondered what it would be like to live in a UFO house?  Well you had your chance to find out when Bob Hope's Palm Springs home was on the market for $25 million.  Unfortunately someone just purchased it for the bargain price of $13 million.  Does "Beam Me Up Scotty" apply here?
Reprinted with permission from RISMedia. ©2017. All rights reserved.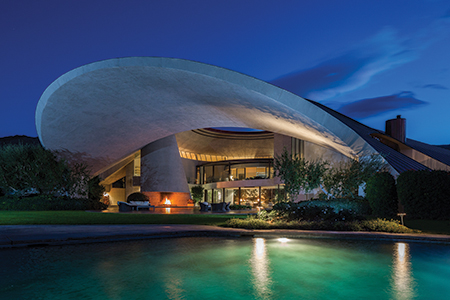 Bob Hope's house sold for $13 million. Having gone through a couple of price cuts over the last three years, the most recent cut lowered the ask to $25 million. But with no comps available, how does one actually price a concrete spaceship? Seems that when $25 million was thrown at the wall, $13 million stuck.
The Palm Springs spaceship/volcano house, designed for Bob and Dolores Hope by John Lautner in 1973, needed a buyer with deep pockets who would appreciate its futuristic leanings, have appreciation for architects who think outside the box, and young enough at heart to enjoy a bit of whimsy.
At 23,000 square feet under a dramatic high undulating roof, the unique house has open spaces in the walls and ceiling, allowing daylight or stars to shine through, casting shapely shadows into the interior. These curved openings also allow for stunning views across the landscape and mountains, while appearing to be nestled comfortably into its well-designed desert landscaping and outdoor living areas. The house also has a spa with greenhouse wall, six bedrooms, 13 bathrooms, indoor and outdoor pools, a pond, putting greens and a tennis court.
Credit: TopTenRealEstateDeals.com
You may not be able to afford $13 million or want to live in a spaceship, but, when you are searching for a new home in the Naples area be sure to call me.  I can help find your dream home, even it is the ordinary 3 bedroom 2 bath home!
Remember it is always toasty in Naples and you deserve your piece of Naples sunshine and a home you can feel comfortable in.