Why do we all love kitchens so much?  And why is the kitchen one of the first things buyers want to see when they are looking at a home?  Even pictures of kitchens on Pinterest get all kinds of attention!  Maybe it is because kitchens are always a focal point for family fun and gatherings and we all have great memories of times spent in the kitchens of our childhood.  Whatever the reason, I completely agree with the splurges suggested in this article I found recently.  Every time I show a buyer a house, and even when showing a renter a property, the main feature is the kitchen and what it looks like.  Homes sell on the basis of a nice kitchen and it is worth spending the money to make your kitchen a showpiece.  I hop you enjoy these tips and can utilize them in your kitchen renovation.
By Barbara Pronin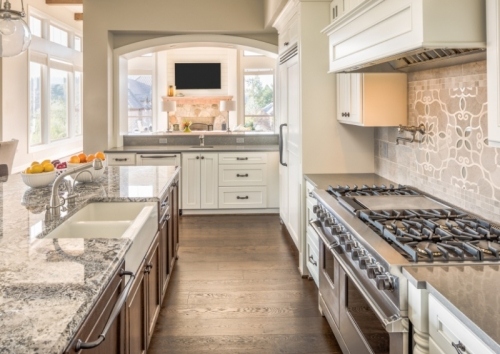 A kitchen remodel can be expensive, and homeowners are justifiably careful about staying within budget. However, there are certain areas in every kitchen where a splurge may be worth the price in terms of efficiency, looks, and durability.
HGTV suggests six areas where a few lavish touches are worth the extra expense:
1. Commercial-Grade Range Hood – Investing in a commercial-style range hood means never having to deal with cooking odors—and keeping a busy kitchen cooler.
2. High-Quality Hardware – Look for quality cabinet knobs, hinges and pulls in brushed nickel, bronze or stainless steel. They add class to any kitchen and will last longer than those made of plastic or wood. For the ultimate in opulence, spring for hand-blown glass.
3. Soft-Close Doors and Drawers – You can't slam these quiet drawers or doors, which makes for a more serene kitchen. They are also great for young families because they close slowly, so little hands and fingers won't get caught or pinched in them.
4. Solid Surface Countertop – Laminate is cheap, but it doesn't stand up and looks tired long before
its time. Splurge on granite or sealed concrete, which will look beautiful and last for many years. (Bonus: It's a great selling feature!)
5. Stainless Steel Appliances – These are worth the added expense because they are stylish, sophisticated and efficient. The newest models offer greater versatility than more traditional models.
6. Warming Drawer – Look for an oven that comes with a warming drawer, or have one custom-built into your kitchen. They are ideal for entertaining, keeping food at just the right temperature for late guests.
Lastly—and most importantly—invest in a professional. An experienced kitchen designer can help ensure you get the kitchen of your dreams without the guesswork or stress.
Reprinted with permission from RISMedia. ©2016. All rights reserved.
Remember, it is always toasty in Naples and you deserve your piece of Naples sunshine and a wonderful kitchen to prepare delicious meals in!
Leave a Reply
You must be logged in to post a comment.