I know how important kitchens are to everyone looking at a new home but bathrooms rate a very high second.  It is not always easy to update your bathroom to the new modern look on a budget but I found this article recently that gives 5 tips for beautifying on a budget.  It may not look like the bathroom here but it can look clean and comfortable and updated from the old standard.  I recently had my bathroom updated and I found once I started it was hard to stop!  It ended up that everything got done except the shower by the time I was finished.  Hopefully you won't get carried away like I did!
By Barbara Pronin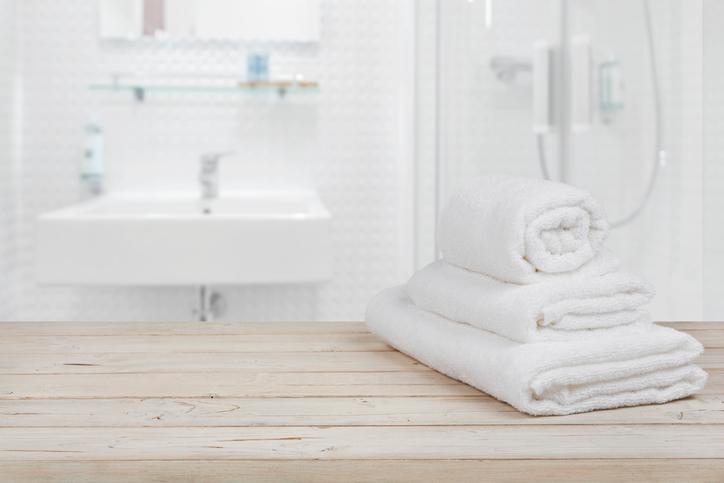 Your bathroom is one of the hardest workers in your home. You want it to help you keep clean and comfy, but when company comes, you want it looking lovely and pristine. To maximize both its use and its beauty, Home and Garden TV designers suggest five thrifty tips for upgrading any bath on a budget:
Try granite – Because bathroom countertops are fairly small, you can swap out dated tile countertops for more attractive granite without spending a fortune. A light, neutral color will maximize natural light while a darker, high-gloss color can add drama.
Focus on the faucet – Today's faucets, in a wide variety of finishes from white to brass to traditional chrome, can add new charm to any bathroom for $200 or less. If you've an urge to splurge, consider replacing the sink as well, with a new drop-in, wall mount, or above counter vessel design that may cost $200 or less.
Showerheads to swoon over – Replacing an old showerhead with a drenching but soothing rainforest model, or a three-way head that can target shampoo or your sore muscles, can make you feel like in you're in your own spa, and all for under $100.
Love the lighting – Augment an old-fashioned ceiling light with wall mounted lighting to add warmth
and value to your bath. Savvy shoppers can do that – and even add some flattering light above the mirror – for well under $300.
Warm it up – When you step out of the bath, there is nothing like a heated floor and/or heated towel bars to make your feel like you live in the lap of luxury. But radiant floor heating can cost as little as $5 and $8 per square foot, and a wall-mounted towel warmer can grace your bath for as little as $200.
Reprinted with permission from RISMedia. ©2017. All rights reserved.
Remember it is always toasty in Naples and you deserve your piece of Naples sunshine and a fabulous bathroom but if you can't afford the upscale designer bathroom maybe these tips will help you enjoy your bathroom more!