When I am out showing homes to potential buyers I am always amazed at how little things are left undone in the home that would greatly add to the appeal.  There are many inexpensive things you can do to show your home to its best advantage.  Remember you are selling a home and all those marks and scratches on the walls remind you of wonderful family events.  The buyer is buying a house and wants to make their scratches and dents not inherit yours!  These 10 tips will help you look around your home with fresh eyes and see it how a buyer would.  If you would like help, call or email me I can get together with you and help you decide the best things to fix up.
10 Touch-Ups for a Show-Ready Home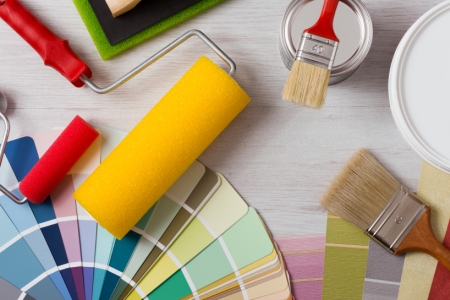 When selling your home, it pays to touch up the paint. The higher perceived value of a maintained home is well-documented, and there's no easier (or more economical) way to give the impression than with some fresh paint.
Before placing your home on the market, complete these 10 touch-ups:
1. If you want buyers to consider your home, make sure the front door is well-painted. A fresh coat of paint will make a great first impression.
2. Next up is the entrance hall, where buyers will get their initial glimpse of the interior. At the very least, touch up areas where the paint shows marks or chips.
3. Bathrooms often receive extra scrutiny from buyers, so give them extra attention. Touch up as needed.
4. Size does matter when it comes to the kitchen. If you want to make yours look bigger, paint the walls white or off-white. If repainting is not an option, remove food stains from the walls and conceal water spots by applying primer, then touch-up paint.
5. Assess your windowsills, especially if the view is a selling point. Sand, prime and paint them as needed.
6. Check your woodwork. Touch up chipped or marred paint on chair rails and floor molding.
7. Inspect areas that come in contact with soiled hands—window frames, door frames, edges of doors, and walls around light switches. You may be able to clean them if you used a glossy paint; if not, do more touch-ups.
8. Scrub cabinet doors clean of fingerprints, if possible, or touch up painted areas.
9. Water stains on the ceiling are a huge red flag for buyers. Be sure to prime and re-paint these potential deal breakers.
10. Put the finishing touches on your home. Look for stray flecks of paint, as well as marks and stains. Conceal them with some touch-up paint, and your home will be good to go…and show!
Source: The Paint Quality Institute
Reprinted with permission from RISMedia. ©2016. All rights reserved.
If you have questions about how much fixing up you should do in your home, call or email me.  We can get together and I will help you do the most cost effective touch-ups that will get you top dollar for your home in the Naples area market.
Remember it is always toasty in Naples and you deserve your piece of Naples sunshine!
Leave a Reply
You must be logged in to post a comment.